History of Strip Poker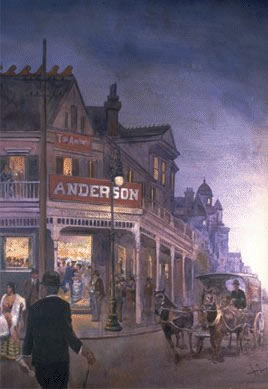 There is no certainty about where and when the game of Strip Poker originated, some believe it was first played in Brothels of New Orleans in the 19th century. Then it was just a grotesque form of entertainment for young male gamblers who lost all their money but wanted to go on playing.
Therefore, originally the game was missing the element of sexuality which is closely associated with it today.
Since Texas Holdem has not gained popularity until the first half of 20th century, originally Strip Poker was played as a classic 5 card Draw Poker.
The 19th century painting on the left depicts an Anderson Cafe which was among the most popular venues in Storyville, the area of New Orleans commonly associated with prostitution and gambling.
Possibly, it is inside this building the game of Strip Poker was played for the first time.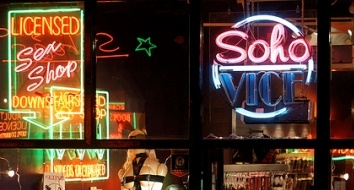 The "mixed strip poker", where both male and female players are present, originated in England during the Great Depression as a form of erotic entertainment. The game was mostly played in unlicensed casinos, which often also operated as brothels. Still, Draw Poker remained the most common form of the game.
I'd be surprised if it's not the London's Soho where the Mixed Strip Poker was first played.
In the 2nd half of 20th century, Strip Poker started getting recognition in popular culture, including movies, computer games, music videos, and TV shows.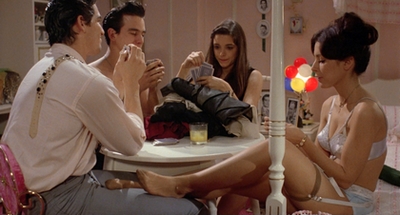 The game made one of it's most notable appearances in the 1979 movie "The Wanderers", which included an episode where young gangsters are playing strip poker with their girlfriends.
The film about New York's gangland subculture was directed by Philip Kaufman, who was a member of a gang while growing up in Chicago.
With widespread introduction of personal computers in 1980s several versions of Stip Poker computer games were developed for different platforms including Atari, Amiga, PC and Apple.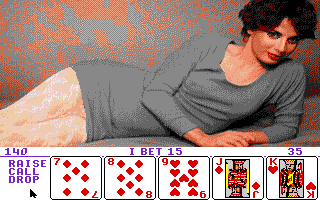 A screenshot of Artworx Strip Poker II released in 1987. The game was available for Apple, Amiga and PC.
Strip Poker started gaining popularity in mass media with intorduction of more advanced broadcasting techniques, allowing more precise audience targeting. Also, the society became more tolerant to the scenes of mild nudity on TV, which resulted in a number of TV shows featuring Strip Poker appearing in late 90s, and the trend continues today.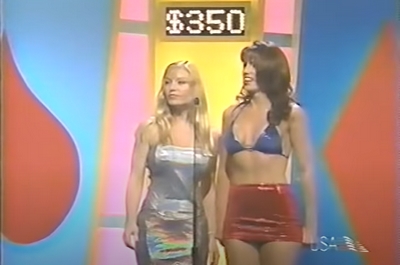 Strip Poker made it's first appearance on TV in 1999 with the game show called "Strip Poker" aired on selected channels in USA.
The show was hosted by Graham Elwood, with Jennifer Cole as the card dealer.
It was based on "five-card stud" variant of poker with elements of quiz game.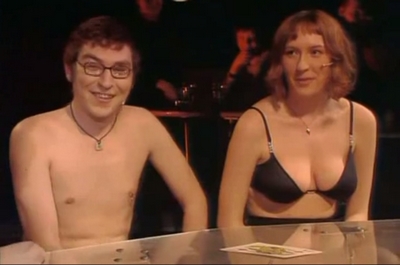 This was followed by game show Räsypokka aired on the SubTV network in Finland from 2001 to 2003. There were 2 male and 2 female players in each episode, some of them getting fully naked during the game.
Some episodes of the show were filmed in night clubs and bars.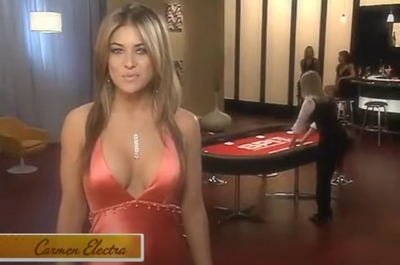 In 2005, a Strip Poker Invitational show was filmed in Las Vegas and aired as Pay-Per-View.
Directed by Ben Weinstein, it was hosted by Carmen Electra, among players were Playboy models Heather Carolin, Tracy Dali, Felicia Tang, and Aimee Sweet.
The variant of poker played during the show was Texas Holdem, which was on a peak of popularity following the 2004 WSOP championship.
Then it was was taken to a new level in 2006, once again in England: the worlds largest Strip Poker tournament took place in Café Royal in London on 19 of August that year. The event was organized by Paddy Power Entertainment Ltd (Ireland), and involved 196 participants playing no limits hold'em in a bid to win £10,000.