Fun Facts about Strip Chess
Strip Chess in Literature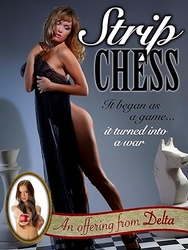 There is an erotic novell by Delta called Strip Chess. It's about six college students who get together after completing 3rd year Finals and end up playing sensual games. During the proceedings, Jen decides to satisfy a long-time yen for Bill, and to spice up their night with a game of chess with rules of her own devising. She's after fun, some sensual play, leading ultimately, to 'mate'. But, as the game progresses, it becomes a psychological battle between the two, watched by the other four, who participate, knowingly or unknowingly, in the struggle. The heat from this one burned out two keyboards.
Strip Chess in Movies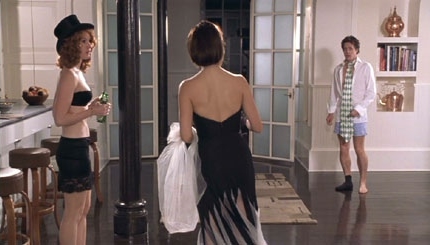 Strip Chess was featured in
Two Weeks Notice
- an American romantic comedy written and directed by Marc Lawrence and starring Hugh Grant and Sandra Bullock. There's a scene where a real estate billionaire George Wade (played by Grant) plays Strip Chess with his potential employee June Carver (Alicia Witt) in a hotel room.
Notable Events
Probably the most famous Strip Chess match was played between Eve Babitz, who later became a famous visual artist, and a French painter, sculptor, and chess player Marcel Duchamp. It was played during the party held at the Pasadena Art Museum on October 7, 1963. Back then Eve was just 20, and Marcel was 76. Being a much more experienced player, he has won without losing a single piece.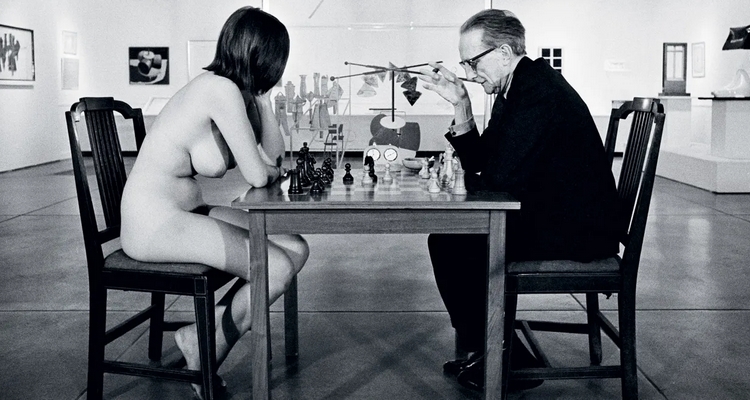 ©1963 Julian Wasser